My most recent new garment is
Simplicity 1353
, a dress by Leanne Marshall, Project Runway winner. I picked up the pattern some time ago, before I'd made the decision to radically change my wardrobe habits - it just seemed pretty and impractical and good for some kind of fancy occasion.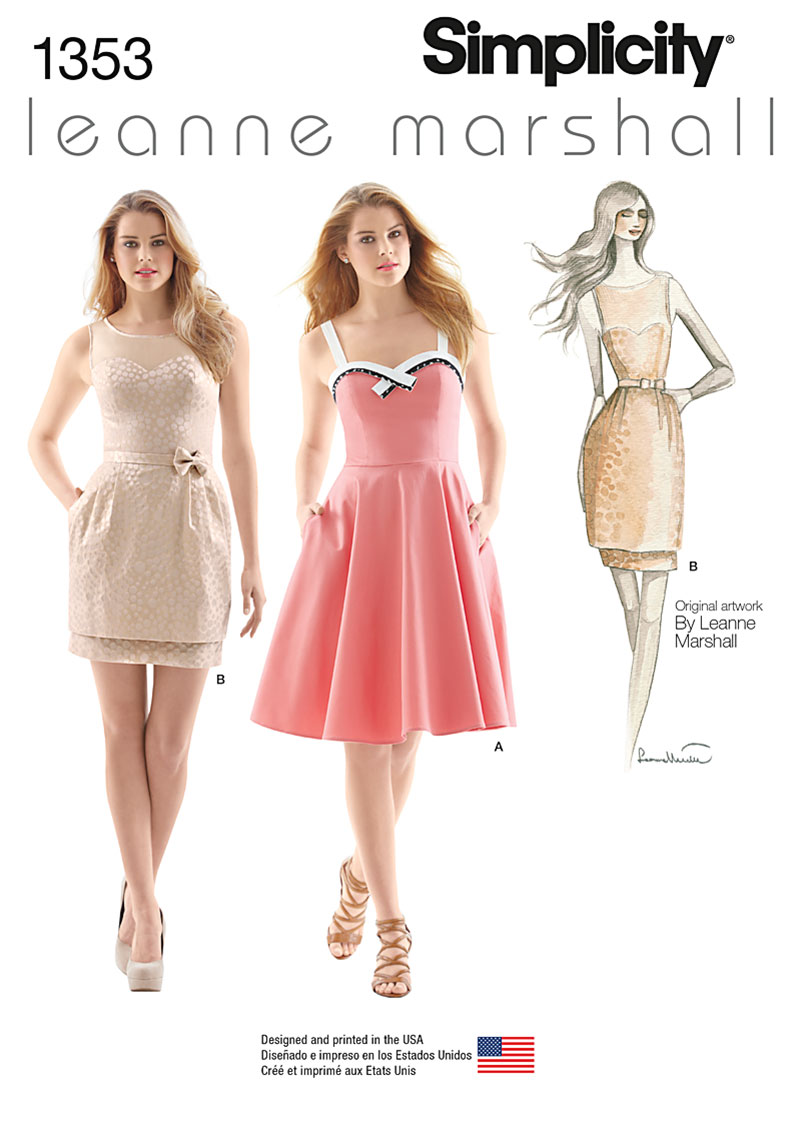 Much more recently, I picked up
Simplicity 1587
, a 1940s reprint, along with two different cotton prints for quilting: a dark red-on-orange red geometric one for the long-sleeved version, and a flowered check for the short-sleeved one. Well, I made up the red (apart from hems) and realized that it was extremely unflattering on me and the fabric was too heavy for the cut, so there was no way I was throwing away the cute flowered check on it!
One of my resolutions is now to stop being seduced by better-quality heavy quilting cottons with great period prints, and to instead buy proper charmeuse, crêpe, or whatever type of fabric would actually work for the pattern I want to make up. This means shopping online at Fashion Fabrics Club instead of going to Joann's from now on, probably.
After making that decision, I sifted through my patterns to find one that could be a new summer dress in a heavier cotton. This one, with its princess-line bodice and circle skirt,
would
work! (Once I got to the neckline decoration and lining, I used a bit of off-white "German chintz" I bought at Mood for my thesis stays, which they didn't work well for, so it's good that I found something better to do with it.)
It's a very simple dress. I made no changes at all except in the placement of the straps - my more comfortable bras have adjustable ones that can be moved to either side of the hooks, so to cover them the dress straps had to be significantly moved as well. (I might make new straps, much wider than these, so I'm not restricted as to bra choices. To be honest, I think the pattern's intended for slender teenagers without bras.) After I wore it I realized that I could have done a bit more tweaking, like to make the front seams curve in a bit more at the top over my bust, but that's pretty minor and nobody but me's going to notice.
My favorite thing - apart from the huge circle skirt, which swooshes around really nicely - is the bands accentuating the sweetheart neckline. The clothes I've sewn for myself have all been very plain: no ruffles, no trim, nothing added beyond the pieces that fit together to cover my body. Sometimes it feels like I'm just putting together a puzzle, and when I think about the seamstresses of the past who added all kinds of frills and flourishes I get a bit downhearted. This unnecessary bit of trim made me feel, for once, like a Real Dressmaker. (Even though they're wrinkly and a bit cockeyed.)